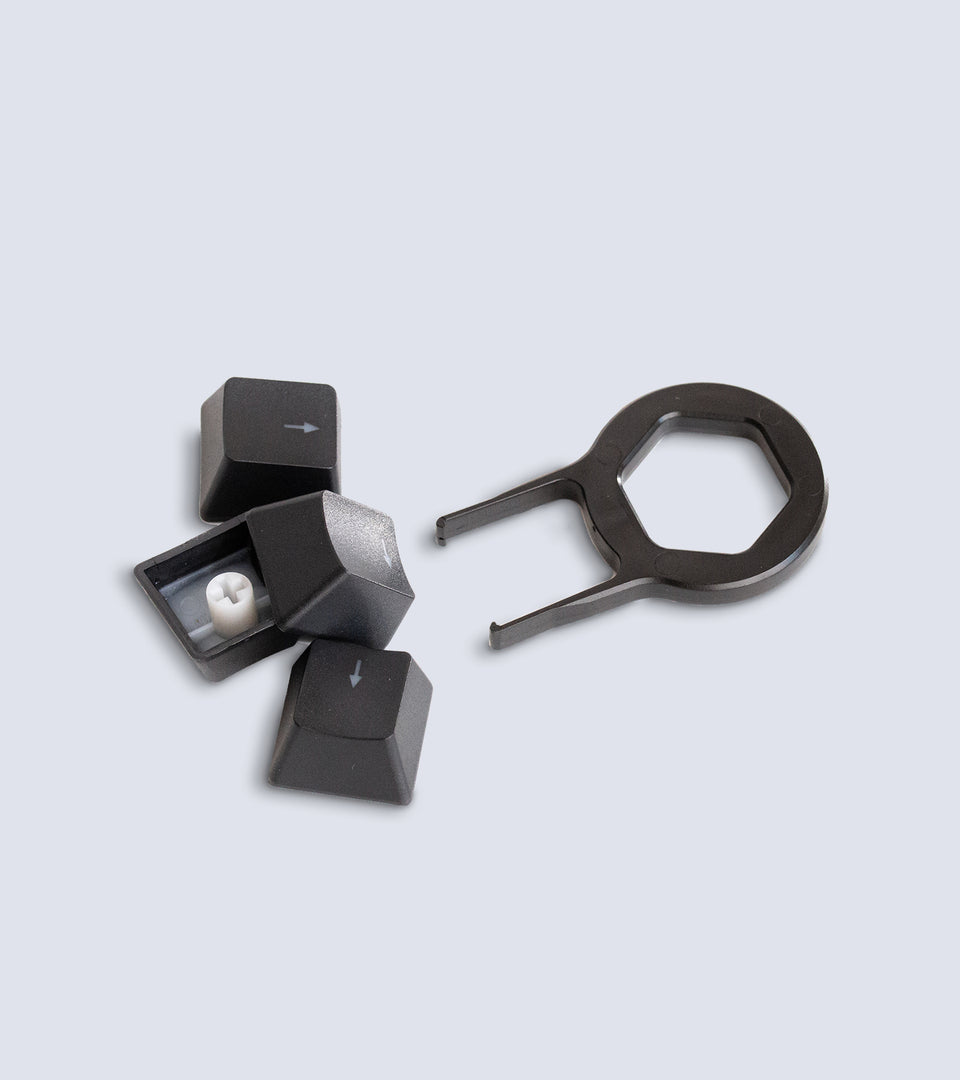 ://blank PBT double-shot shine-through keycaps | Carbon Black
KC1-US3-PDS-BK1
Seamless Double-shot Shine-through PBT keycaps. 1.4mm thick PBT walls, textured surface and non-gamer design. These caps will never fade, tear or wear and last longer than your keyboard.
Also available in Mint Carbon color.
Compatibility:
Any switch with a cross shape stem.

Including, but not limited to: Lekker, Flaretech, CherryMX, Gateron, and Kailh switches.
Excluding, but not limited to: Alps, Topre, and Romer-G.

OEM Profile, standard bottom-row.
ANSI and ISO.
Learn more about keyboard language and keycap layouts.
Learn more about keycap material and methods..
2 year warranty
Terminology breakdown
Tech specs & package content
FAQ
| | |
| --- | --- |
| Double-shot | 2 plastic injections. 1 for the outer shell, 1 for the legend, merged together as 1 keycap. This will never fade. |
| PBT plastic | A stiffer and more durable plastic than ABS plastic. PBT doesn't discolor or develop shine over time. |
| Shine-through | The legends on the keys allow LED backlight to go through. |
| Seamless legends | O, B, R, Q, R and any key legend that makes a full closed circle is seamless without a gap. |
Specifications
| | |
| --- | --- |
| Material | Double-shot PBT |
| Keycap color | Carbon-black |
| Legends color | Transparent (shine-through) |
| Profile | OEM profile |
| Bottom-row | standard |
| Layout | ISO / ANSI |
Package contains:
108x US ANSI layout keys
4x ISO compatible keys

(fat) Enter
(small) Left shift
Row 2: | \
Row 1: | \
Minimal system requirements:
Do I get Warranty?
Wooting products all have a 2 year warranty and lifetime support. The warranty doesn't go into effect until it's shipped. When you're out of your warranty period, we often offer replacement parts at discounted prices.
Will this fit my [Keyboard]?
://blank keycaps fit any standard layout keyboard. These have a "standard bottom row" with 1.25 unit keys and 6.25 unit spacebar. Learn more about language and keycap layouts.
Regardless of your language choice, the base set includes 4x additional keys for ISO layouts:
(fat) Enter
(small) Left shift
Row 2: | \
Row 1: | \
These additonal keys allow you to install US English on either an ANSI or ISO keyboards.
Can I combine the this product with another order?
You can place a new order for any quantity and add it to an existing pre-order.
Please contact us on social@wooting.io to let us know what you'd like to add to your order. Then we will send you a custom invoice.
Legends are very difficult to see
The legends are too dark. Not enough contrast compared to the key coloration. Shine through is too dim.
Perhaps they would work better for a person with excellent eyesight? Younger eyes?
Having said all that, they have good texture and feel good on the fingertips.
Literally, thanks for nothing
You sent the wrong product and have ignored my attempts to set things right. You suck.
Pbt keyacaps r good
Awesome very good quality
They're probably really nice. Waiting for my original keycaps to wear out.
Bought them on sale for a steal, Haven't opened them yet, but I bet they're nice.
Great quality just a little dark
These are top quality keys. They're well made, feel solid, and look great. In almost every way they are perfect. They even contain a key puller to make installation a snap. My only complaint is that they aren't clear enough in the clear part to let all the letters and numbers show through clearly. The function keys and the ins/del/pgup, etc keys are a little dark and do not show up well under normal office lighting. And that's my only complaint. I'm going to keep using them because they really are good keys, but for that one problem.