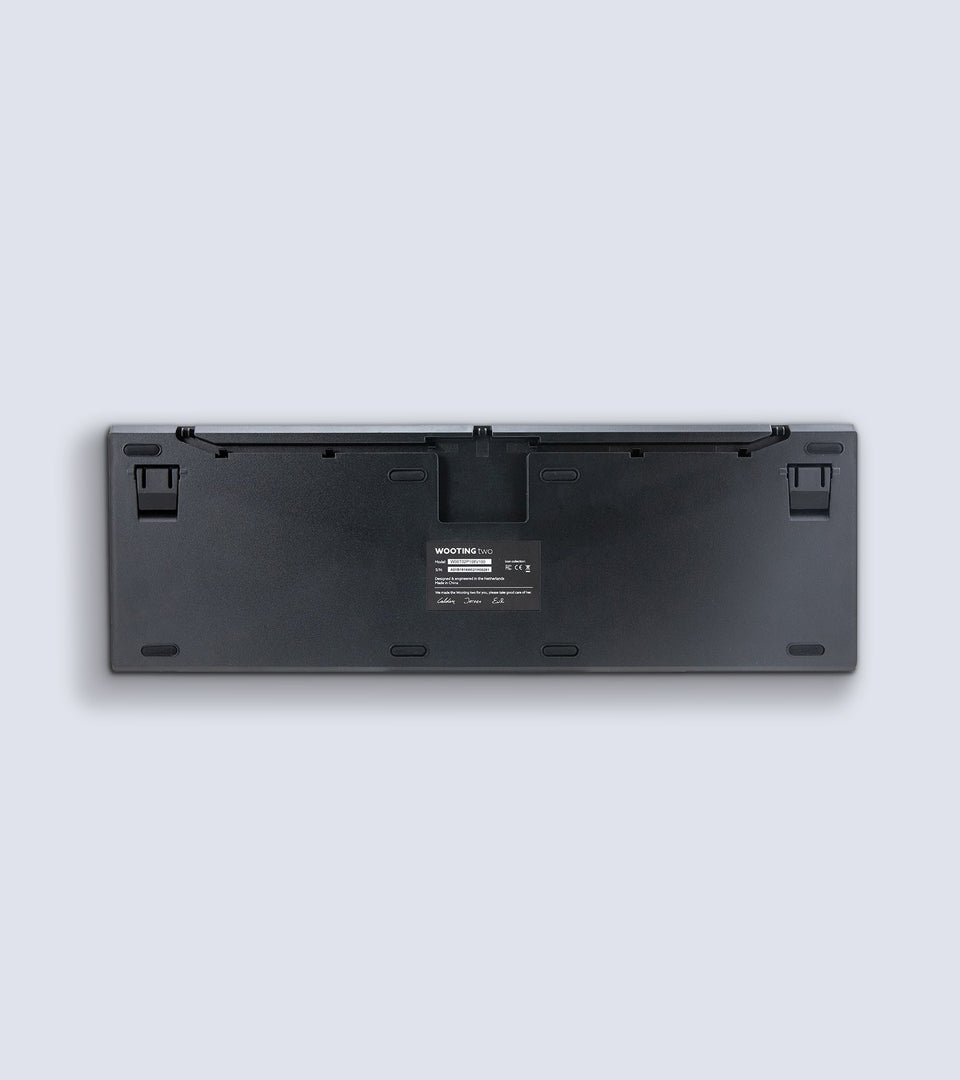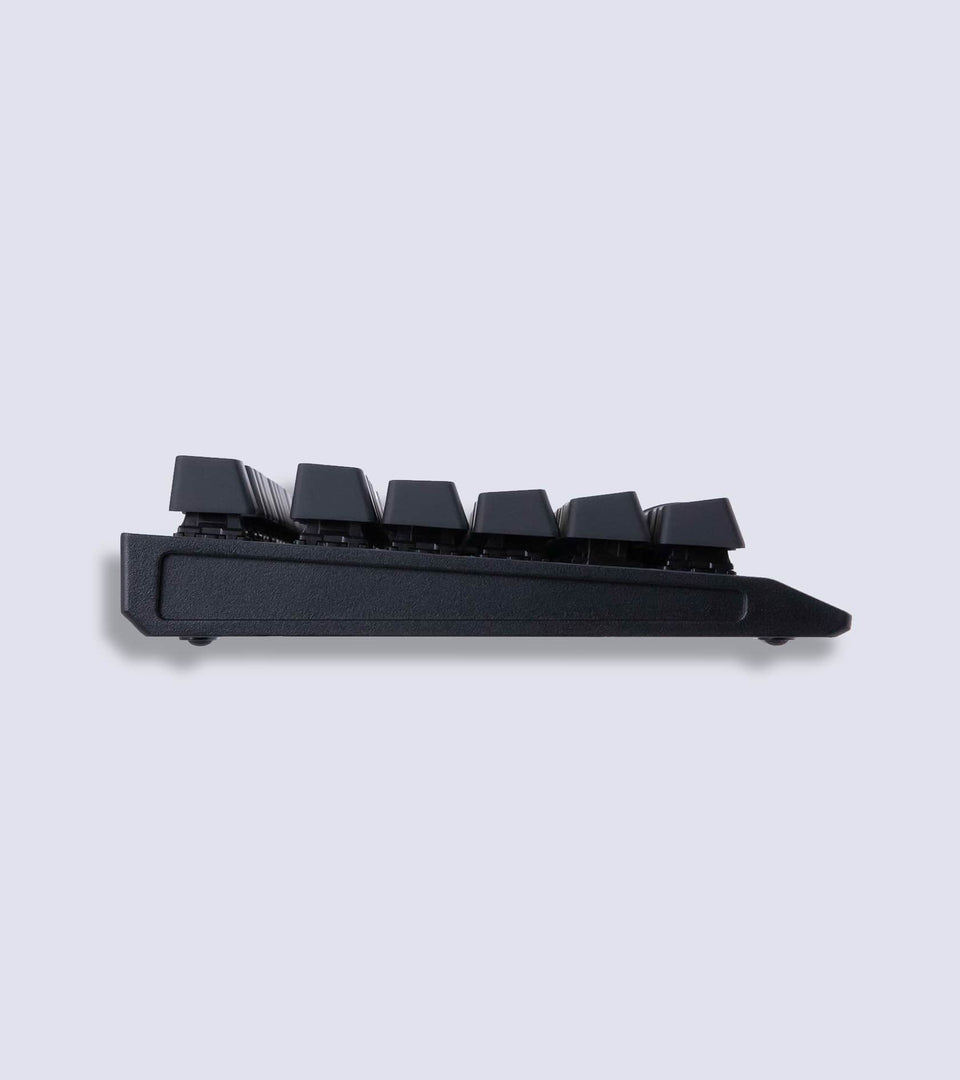 Wooting two - Full-size analog keyboard
WK2-US2-RD-001
Sold out: These models will not be back in stock anymore. There will be a garage sale of our last units, and then it's all gone. We are working on a new model, but COVID has severely delayed our progress. For now we can recommend the Wooting two HE.
The Wooting two is optimized for gaming with the fastest possible input speed, NKRO and anti-ghosting. You'll know for sure it's not your keyboard this time.

Each key on the Wooting two supports Analog input, creating unique analog features and gradual input control in games. Everything is entirely customizable in the no-bullshit Wootiltiy configuration software.

When you're not gaming, you can hot-swap the switches and enjoy an extremely satisfying typing experience. Google us, read reviews, or join the Discord. You don't just get a keyboard, you join a vibrant community and team.
Zero latency
Analog input
The Wootility
Tech specs & package content
FAQ
Input speed
We leveraged the optical switch technology and optimized our firmware for the fastest possible input speed.
When you toggle on Wooting's exclusive "Tachyon mode", it'll go into hyper-drive. Your Wooting two will turn off all unnecessary features (e.g. RGB effects), adjust the actuation point to 1.6mm and increase keyboard scanning rate to a staggering <1ms without any debounce.
Learn more on
what influences input speed
and how we measured it.
Analog input
The Wooting two can detect how far down you press each key for analog input, outputting a variable signal from 0 to 100. A regular keyboard can only detect if you pressed a key, outputting a fixed ON/OFF signal.
Analog input has the best of both worlds. It can type like a regular keyboard using an ON/OFF signal and also allow gradual input using a variable signal. You can configure it however you like.
The Wooting two - Flaretech can detect an analog signal from 1.5mm to 3.6mm.
Adjustable actuation point
You can adjust the keyboard actuation point anywhere between 1.5 to 3.6mm on each profile. Quickly switch between a gaming profile with 1.5mm actuation and an error-free typing mode at 2.3mm.
Dynamic Key stroke (DKS)
Why settle with a single actuation point? Bind multiple inputs at different actuation points with Dynamic Key Stroke (DKS). Our advanced DKS feature allows more complex bindings based on key press down and up events.
Create a simple 2-state key, press a little; you walk, press to the end; you sprint. Or create complex combo-bindings and precisely control when you activate each step of the combination.
Read more about
different ways to use DKS
.
Analog input in games
Take analog control in your games with the analog input keys, just like a joystick controller. Never lose immersion and gain smooth control in selected games that support Xinput (Xbox controller) or DirectInput (generic controller).
You won't need a steering wheel or grab the controller anymore for racing games or sandbox games. Now you can make fine movement and controlled turns using your keyboard keys. You can quickly turn it on or off and switch to an entirely regular on/off keyboard.
You are in control.
If you're like us, you must be pretty fed up with the awful software from "gaming" companies. That's why we made our own to-the-point software that we're continuously improving. You don't need to run it in the background and you don't even need to install it to use any of the Wooting two features.
The Wootility configuration software helps change the settings saved on your Wooting keyboard. That's it.
If you're a developer and like yourself some code, you can start making your own Analog input applications and integrations using our open-source Analog SDK. Or play around with the open-source RGB SDK. You can find all
our projects on GitHub
.
Wooting two tech specs
| | |
| --- | --- |
| Form factor | 100% - Full-size - 108/109 keys |
| Backlight | Per key programmable RGB |
| Connector | Detachable USB-A to USB-C |
| Switches | Flaretech Optical switches (Get more here) |
| Keycaps | ABS laser backlight |
| Dimensions LxWxH | 18" x 6" x 1.5" Height is from table to highest point keycap. |
| Weight | 950g |
| N-Key rollover | Yes |
| Polling-rate | 1000Hz |
| Scan-matrix | 1000Hz (<1ms) |
| Debounce | 0.03ms |
| On-board memory | Yes - up to 4 profiles |
Flaretech switches
| SWITCH COMPARE | Linear55 red | Linear80 black | Clicky55 blue |
| --- | --- | --- | --- |
| Key end force | 55cN | 80cN | 55cN |
| Linear/Non-linear | Linear | Linear | Non-linear |
| Feedback | No Feedback | No Feedback | Audible |
| Lifespan (in clicks) | 100,000,000 | 100,000,000 | 100,000,000 |
| Maximum scanning speed | <1 ms | <1 ms | <1 ms |
| Total travel distance | 4mm | 4mm | 4mm |
| Actuation point | 1.5 - 3.6mm | 1.5 - 3.6mm | 1.5 - 3.6mm |
| Rapid Trigger | No | No | No |
| Keycap stem | MX (cross) | MX (cross) | MX (cross) |
| Hot-swappable | Yes | Yes | Yes |
Package contains:
Wooting two keyboard
Braided USB-A to USB-C cable
1x keycap / switch puller
5x top plate screws
4x Spare switches

Minimal system requirements:
Windows 7/8/10 - Mac OSX - Linux
1 free USB port
The internet - Optional for downloading the Wootility
Do I get Warranty?
Wooting products all have a 2 year warranty and lifetime support. The warranty doesn't go into effect until the keyboard is shipped and an invoice is issued.
What is the difference between the Wooting one and two?
The Wooting one is our Tenkeyless (TKL / 80%) layout keyboard and the Wooting two is our Full-sized (FS / 100%) layout keyboard. The Wooting two uses USB type C to a regular USB-A connector and has a few minor design differences.
What is Analog input?
In short every key on a Wooting keyboard can see how far you press down for analog input. Similar to how a joystick on a controller works, you can gradually control the amount of input.
More info here.
Are all keys analog?
Yes, all keys on a Wooting keyboard have analog input and are configurable. The analog range of Flaretech optical switches are from 1.5 to 3.6mm. The Lekker magnetic switches have an analog range of 0.1 to 3.8mm, and are available with the
Lekker Edition
.
Can I install different switches on the Wooting Flaretech keyboard?
You can only install Flaretech switches on the Wooting one and two Flaretech keyboards. It's not possible to install Lekker Switches in a Wooting one or two Flaretech keyboard. And visa versa. Due to the different technology used for analog sensing.
Does the Wootility software work on my system?
The Wootility is available on Windows, Mac and Linux. Xinput is not natively supported on Linux and Mac. In-game analog movement features using Xinput will not work on both these platforms. DirectInput (generic controller) and all other analog features (adjustable actuation point, etc) all work as expected.
Does the Analog input work with all games?
Most games that support Xinput (Xbox controller) or Directinput (Generic controller) will also support analog input. However, some games such as Destiny, Assassin's creed and Rainbow Six do not allow the use of 2 input devices (Keyboard, mouse and controller) at the same time.
Games that support the Wooting Analog SDK, natively support keyboard analog input.
Is there a list of supported games?
Yes! However it relies on the community to update it. We are still working on a better solution.
Broken switch on arrival
The optical switch of '0' key was broken
It's a very fast keyboard but
I liked how fast it actuated but I always bottom down on my keys especially when I do movement on fortnite I recommend selling switch stoppers for the people that bottom down on they're keys.
I love it!
It might be a bit hard to set up the analog, but I love the feel of everything and it is a quick set up.
Love it!
It's a great keyboard that have everything I wanted. I love it!
Good feel
Offers a nice typing experience with decent resistance. Only complaint is that the spacebar feels a bit loose, particularly when I press it from the right or left sides rather than directly in the middle.